Registered Massage Therapy
Massage Therapy Services
From Highly Trained Professionals
Our Massage Therapists are trained in Swedish massage, sports massage techniques, prenatal and postnatal massage and more. A few of our therapists specialize in a variety of extensions of these modalities:
Swedish Massage: This is the most common type of massage. It uses long, smooth strokes to help relax the body.
Sports Massage: This type of massage is designed to help athletes recover from injuries and improve their performance.
Prenatal Massage: This type of massage is designed to help pregnant women relax and reduce stress.
Postnatal Massage: This type of massage is designed to help new mothers recover from childbirth and promote bonding with their babies.
TMJ Massage: This type of massage ideal for clients experiencing jaw pain, tension headaches, or other symptoms related to TMJ disorders. 
Hot Stone Massage: This type of massage involves the use of smooth, heated stones. It is ideal for clients seeking to alleviate muscle tension, improve blood flow, and induce deep relaxation.
CranioSacral Therapy (CST)
A gentle, hands-on approach that releases tensions deep in the body to relieve pain and dysfunction and improve whole-body health and performance.
Using a soft touch which is generally no greater than 5 grams – about the weight of a nickel – practitioners release restrictions in the soft tissues that surround the central nervous system. CST is increasingly used as a preventive health measure for its ability to bolster resistance to disease, and it's effective for a wide range of medical problems associated with pain and dysfunction.
Hot Stone Massage Therapy is a luxurious and therapeutic experience, combining the soothing warmth of smooth, heated stones with traditional massage techniques. This treatment involves placing warm stones at key points on the body, often along the spine, in the palms, or between the toes, to deeply relax muscles and improve circulation. This holistic approach not only eases physical discomfort but also promotes mental relaxation, making it ideal for those seeking a calming, rejuvenating experience.
The therapy is not just physically beneficial; it's a sensory journey. The warmth from the stones penetrates deeply, promoting a sense of deep relaxation and peace. It is especially beneficial during colder seasons or for individuals with cold sensitivity.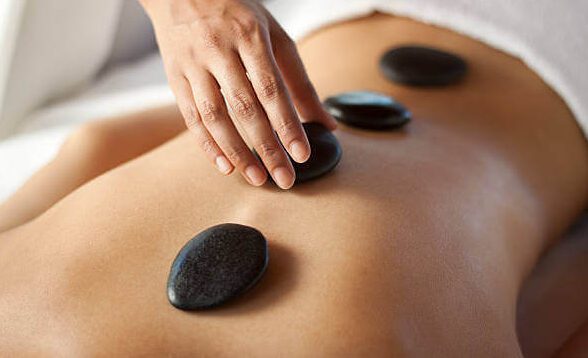 The cold season is here- Why not warm up with a relaxing Hot Stone Massage?
Deep Muscle Relaxation

Improves circulation
Releases tension and reduces stress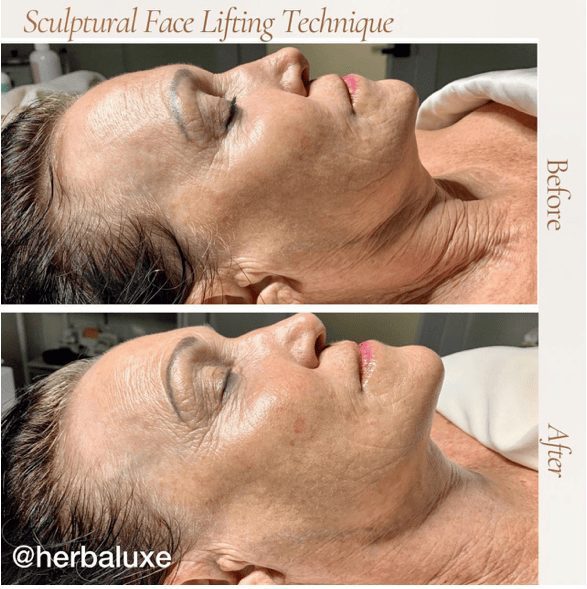 Key Benefits of Sculptural Face Lifting
Rejuvenates and restores a youthful appearance
Diminishes wrinkles and deep folds
Minimizes double chin and drooping corners of lips
Reverses and prevents signs of aging on the face
Lifts and tones sagging cheeks, reducing "bulldog cheeks"
Smoothes out "crow's feet" and forehead wrinkles
Eliminates puffiness and dark circles under the eyes
Aids in rehabilitation after sinusitis or stroke
Sculptural Face Massage Therapy:
What To Expect From The Procedure
Sculptural Face Massage is the ultimate anti-aging facial treatment, providing a face lift without the need for injections or surgery. This dynamic lift procedure targets the deep, underlying support muscles of the face and incorporates a powerful energy technique with osteopathic effects to tone and lift these muscles. Simultaneously, it helps release negative emotions that can influence the structure of our face.
During the sculptural massage, the Registered Massage Therapist (RMT) focuses on the underlying muscles responsible for specific signs of aging, such as the double chin, puffy eyelids, lowered mouth corners, and lines between the eyebrows. The massage is designed to address and improve these areas.
Next comes the buccal massage, a deep tissue and intra-oral technique that further combats signs of aging without the use of needles or surgical interventions. This method requires a deep understanding of the anatomical structures of the face and skilled manipulation of each individual muscle. To fully restore muscle function, a mini TMJ (temporomandibular joint) treatment follows.
For more long-lasting results, we recommend a complete course of 6-10 procedures, scheduled once a week, followed by regular maintenance sessions once a month. This will help sustain the achieved results over time.
We've Helped People
Just Like You
Another wonderful trip to Back in Balance today. I always leave feeling refreshed and renewed. I have been seeing Dr. Friedman for Chiropractic care for years and Catherine Hanson for massage therapy. Personable, professional and expert care. The team at back in balance has helped me through several wears and tear injuries and works continually to keep me in tip-top shape!